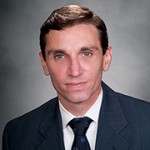 Bayard Director GianClaudio Finizio ("J.C.") recently spoke at the Meritas Annual Conference in Boston, MA.
J.C., Bayard's Meritas Member Contact and a member of the Meritas Leadership Institute Class of 2013-2014 (the "Leadership Class"), presented the results of a survey that the Leadership Class had conducted, targeted at business executives, private practice attorneys and in-house counsel seeking to answer the question: what is the 21st century client looking for when retaining or deciding whether to maintain existing relationships with law firms? The presentation reflected how the shift in the market (due to the recession, among other factors) has affected the 21st century client's search for and retention of law firms. It highlighted, among other areas, the importance of attorney responsiveness in maintaining such relationships. A live, virtual panel of in-house counsel expanded on certain survey findings and provided examples of personal experiences. The insightful presentation was well received by attendees and covered in the Massachusetts Lawyers Weekly.
Meritas is an invitation-only global alliance of 178 independent, full-service law firms located in 78 countries around the world. Bayard is Delaware's sole member of Meritas. The Annual Conference ran from April 30 through May 3, 2014.