Bayard, P.A. congratulates Kara M. Swasey on receiving the 2017 Christopher W. White Distinguished Access to Justice Commitment Award from the Delaware State Bar Association for their pro bono legal work in the state.
Kara is a director in Bayard's family law practice group. Over her ten year career, she has been committed to helping others through her legal work, in addition to her hefty caseload at Bayard. She has represented foster children, victims of domestic violence, and indigent citizens in matters before the Family Court. She is active in a number of volunteer legal organizations in Delaware. She served as a volunteer attorney for the Delaware Volunteer Legal Services for many years and was elected to its board of directors this summer of 2017. In addition, Kara volunteers for the Domestic Violence Advocacy Program, the Limited Legal Assistance Program, the Federal Re-entry Legal Assistance Program, and the Office of the Child Advocate. Kara has also served on the Access to Justice Committee's Judicial Branch Coordination in Helping Pro Se Litigants and the Family Court Enhancement Project's Access to Justice. She looks forward to her work this year on the Access to Justice Subcommittee on Promoting Greater Private Sector Representation of Underserved Litigants.
Chris White was a well-known attorney and advocate for less fortunate people in Delaware. He dedicated his career to help poor, disabled and elderly people in the State before his death in 2010. "Chris White's death was random, senseless. We try to understand the causes of violent or careless harm, and while we can analyze the actions, we find it difficult to comprehend them in our hearts. The way for us, as humans, to countermand this harshness of life is to love, pursue and do what is good. Kara chooses, every day, to do what is good; and her actions create, every day, real and lasting effects in the lives of her clients, and her peers. It is very appropriate that she is recognized by an award named for Chris," said Curtis P. Bounds, head of the family law group.
"Bayard has always encouraged my pro bono efforts both for the good of the order and as an opportunity to grow as an attorney. I am honored and humbled to be receiving this award for work I consider necessary to the practice of law," Kara said as she graciously accepted her award.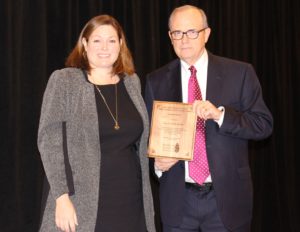 Photo: Kara Swasey accepts award from Michael Houghton, President of the Delaware State Bar Association
About the Christopher W. White Distinguished Access to Justice Commitment Award
The award is presented to a member of the Bar who has demonstrated sterling commitment to pro bono work throughout his or her career by dedicating time and energy to the support and provision of legal services. The criteria includes but is not limited to: The number of pro bono hours devoted to the legal representation of indigent clients over the lawyers career; and the lawyer's commitment and service on committees dedicated to promoting and supporting the provision of legal services to those in need over the lawyer's career.
Photo credit: DSBA